With new rule, a push for new signs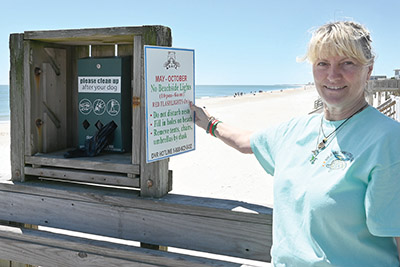 Nancy Crawford with a prototype for the new signs.
For 12 years as a volunteer with S.C. United Turtle Enthusiasts, Nancy Crawford has been doing what she can to protect sea turtles.
But she wants to do more.
The Hagley resident is leading an effort to install signs with rules to safeguard turtles and a telephone number for the state Department of Natural Resources at 78 walkways from Litchfield to Garden City.
"You're still hearing the same things, you're still seeing the same thing of holes [on the beach] and the problem doesn't go away," Crawford said.
She has been working on the project for three years.
SCDNR was interested because turtles were being hooked by fishermen near piers and the agency wanted signs on piers.
"And then COVID hit and delayed it," Crawford said.
The idea for the signs, and the design, had to be approved by SCUTE, SCDNR and the county's Parks and Recreation department, which oversees the county's beaches.
"It was a lot of different people's input on the design of the sign," Crawford said.
Now that she's got all the necessary approvals, Crawford is raising $3,000 to buy the first 100 signs and poles. She wants to have replacements ready if a sign gets damaged.
Once the walkway signs are in place, Crawford would like to make signs available to people who want to hang them at their beach house.
"My focus right now is, let's get the beach walkways done and that will be later," she said.
Crawford recently started a Facebook page: Because We Love Turtles. She began fundraising over the weekend with Candi Nichols, better known a Cutlass Candi for her beach reports on social media.
By Wednesday, they had already reached their goal. The Because We Love Turtle page will be used to provide updates on the sign project.
Crawford was already successful this year in a safety initiative aimed at turtles and humans.
After she went before County Council and urged them to pass an ordinance to restrict the recreational practice of digging holes on the beach, council approved a regulation that holes could only be 2 feet deep, or less, and must be filled in before the digger leave the area.
"The last five years, the holes on the beaches have gotten to be ginormous," Crawford said.
It's not just about turtle safety, Crawford added, it's about the safety of walkers and people who could get trapped in the holes if the sides collapse.
SCUTE volunteers will begin walking beaches at sunrise the first week in May. Turtles are expected to start nesting soon after and continue through late August.
The first nest last year on the Waccamaw Neck was May 16 at Huntington Beach State Park.