With no further appeals, new mayor maps out path toward unity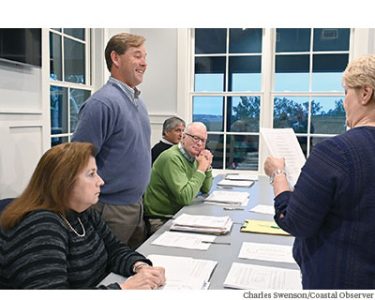 Brian Henry is sworn into office by Town Clerk Diane Allen.
A candidate for Pawleys Island Town Council will not appeal a decision by the county elections board to dismiss his protest.
"It's really disappointing that, based on the votes of residents, I won by 12 votes," said Josh Ricker, who finished fifth in the race for four council seats.
He was referring to the votes cast at the poll on Nov. 5, which gave him a 66-54 lead over Guerry Green, who was seeking a second term.
When the absentee and challenged ballots were counted, Green led Ricker 73-66. Green's vote, along with those of his wife and two of his children, were among those challenged.
Ricker and Jimmy Braswell, who lost to Brian Henry in the mayor's race, protested the election, saying the county Board of Voter Registration and Elections erred in counting votes of people who were not properly registered. Ricker and Braswell included Henry and Green in that group, saying they were not valid candidates because they were not qualified voters.
The elections board dismissed the protest, agreeing with the attorney for Green and Henry that the protest was improper because it sought to relitigate issues already decided when the board unanimously agreed to allow the challenged ballots to count.
Braswell said after last week's hearing that he would not appeal to Circuit Court. Ricker took more time to consider his options, but said this week he won't file an appeal.
Green was sworn in for another term on Monday along with Henry and the three other council incumbents, Ashley Carter, Sarah Zimmerman and Rocky Holliday.
"It's been an honor and privilege to be mayor of this wonderful island," Braswell said before stepping down. "Congratulations to the new Town Council, especially the new mayor, and with all my heart, the best of everything to Pawleys Island."
Braswell also thanked the town staff, whom he called "over-the-top professional."
Carter, who was the top vote-getter, told Braswell, "We can say without a doubt that you have Pawleys Island's best interest at heart, and we appreciate the job you've done."
After discussing ways to improve storm drainage, paying some bills and giving the first of two readings to a $922,000 operating budget for 2020, Henry told the council he has plans to unify the island after the election.
"This past election was divisive. It wasn't a lot of fun for me. I'm sure it wasn't fun for Jimmy," he said. "I appreciate Jimmy's class in congratulating me and the way things have gone down in the last couple of days."
Henry said it's time to stop talking about the island as sections. "We are Pawleys Island, and we don't need any divisions or factions," he said.
He sought to put an end to talk about residency that became a focus of the election as Henry and 41 others changed their voter registration to addresses on the island. He and his wife own the Sea View Inn, where they are registered to vote.
"The last 12 weeks have seen my opponents try to silence the voices of legally registered voters on Pawleys Island. We will go in the opposite direction. I believe every single property owner should have a voice. And on all the important issues, we will make sure that they do," Henry said.
He said the top issues will be funding for future beach renourishment as well as projects to improve drainage and the flow in Pawleys Creek. Henry also wants to slow traffic on the island and make it more pedestrian- and bicycle-friendly.
"We need to communicate better with all property owners," Henry said. "That includes emails, texts and mailings that accommodate owners of all ages. That will ensure transparency and real-time feedback on important issues."
Ricker, who co-chaired the town's ad hoc finance committee this year, said he will continue to be involved. "There's a lot we're going to start doing," he said.
Ricker also cited the need for better communication. "Everybody's felt isolated or in the dark," he said.
Henry said he ran for mayor because he was concerned about "fundamental changes" and because he wants to give something back.
"I've been blown away by the amount of support I have received," Henry said. "I will always be grateful and motivated to do the right thing by Pawleys Island. I will not be doing it alone. We will all do it together in the spirit of cooperation, unity and the more-the-merrier approach. That is what Pawleys Island demands, and that's what it deserves."
After the meeting, Henry handed out bumper stickers that read: "Pawleys Island: Love It & Leave It Alone."