With state funds approved, North Litchfield connector could start this summer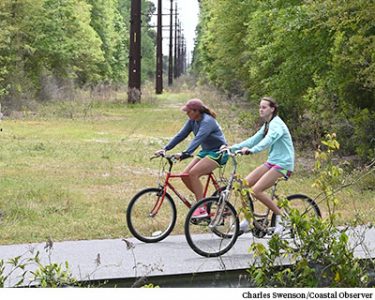 The connector will run under Santee Cooper's power lines.
A $100,000 state grant will help complete a long-awaited portion of the Bike the Neck path through North Litchfield.
Work could start this summer, according to Ray Funnye, Georgetown County's director of Public Services.
The state Department of Parks, Recreation and Tourism notified Georgetown County last week that it qualified for the Recreational Trails grant, the same one that the agency awarded to the project in 2012. The first grant was returned to the state because the county was unable to obtain easements for the connector from adjacent property owners.
The project will run 3,000 feet under the Santee Cooper power lines between Boyle Drive and Trace Drive and connect two existing portions of the Bike the Neck route. Cyclists now have to use Lakeshore Drive through North Litchfield, which has raised concerns about safety.
"This cannot in good conscience be put off any longer," said Linda Ketron, founder of Bike the Neck. She lives at North Litchfield and has seen bike traffic increase as schools and businesses were closed due to the coronavirus outbreak.
Many are families, she added.
"If ever we needed a reminder of the value of the outdoors to our quality of life," this is it, Ketron said. "Where would these families be?"
The project will connect the path that runs from Murrells Inlet through Huntington Beach State Park with the portion that runs from Litchfield to Waccamaw Elementary School.
The Litchfield Beaches Property Owners Association allocated $40,000 for the connector. An undisclosed portion was used to pay some property owners for easements, which the county would not do. Santee Cooper's easement only allows for maintenance of the power lines.
The last easements were acquired in December 2018, after the window had closed on the last round of PRT grants. The county reapplied in January.
When the connector was first proposed, the cost was estimated at $144,000. The current estimate is $289,000, which includes wetland crossings and an increase in the width of the path from the 2012 plan.
The county will supplement the state funds with money earmarked for paths in its capital improvementplan.
The grant still has to be reviewed by federal agencies and the county has to attend a briefing with PRT. In the meantime, Funnye said the county is preparing the bid documents. The permits and design are already in hand.
"Now is a great time to bid it," Funnye said. "The market has sagged."
He hopes that County Council will be able to award a contract by early June.
"I don't see why we need to delay this project," Funnye said.