With time on their hands, some Warriors keep training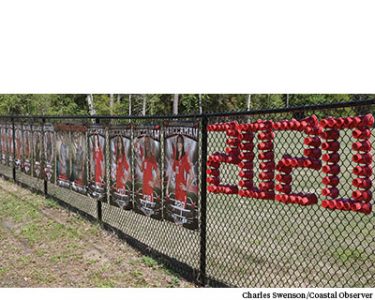 Senior photo banners were moved from the playing fields to the front of the WHS campus.
It has been 26 days since the last sporting event for Waccamaw High School athletes. It will be at least another 21 days before the next one, if there even is a next one during this school year.
"The past few weeks have been filled with many different emotions," said Sam Kelley, a runner on the track and field team. "I would have never thought my senior year would end like this. Everything changed so suddenly."
Track and field was the last Waccamaw team in action before schools were closed by Gov. Henry McMaster due to the coronavirus. The Warriors competed at a meet in Summerville.
"I didn't believe it was our last meet because I was still so hopeful that it wouldn't end like this," Kelley said. "I wanted to keep the hope that my 'year of lasts' would continue and wouldn't end so soon."
Student-athletes in Waccamaw's Class of 2020 are grappling with the knowledge that they may never put on the school's uniform again.
Jonah Stump has played soccer since he was four years old, and the striker wanted nothing more than to beat rival Bishop England on March 12. The Warriors were up 2-1 with five minutes remaining in the game, but after going back and forth with the Bishops, they lost 4-3.
"Our last game was one of the most exciting games I've ever played and it was a heartbreaker," Stump said. "It was the hardest I've ever watched my teammates play and it was terrible having to see us lose knowing it could've been our last game for a while or ever. We fought our hearts out and it was amazing to be a part of it."
"The season started off great," lacrosse defender Reese Hannon said. "We had possibly the best varsity team Waccamaw ever had, and we were ready to put the work in to get to state this year."
The Warriors won their last three games, including beating May River 9-8 on March 13.
"The last game we had was one of the best lacrosse games I've played in," Hannon said. "We went into overtime and won despite being down a few players and all of us seniors knowing it might be the last game we played. Overall it was a great season that I'd give anything to keep playing."
Now that sports have been put on pause, all Waccamaw students, but especially this involved in extracurricular activities, have a lot of time on their hands.
"These past few weeks have been very challenging in the fact that this is usually when I'm most busy with school, softball and just being with the team in general," said Summers Ward. "I have definitely been missing being with my team and playing."
Covey Loftus, who plays tennis and throws on the track and field team, described the past 26 days as "boring."
"I have nowhere to go and nothing to do besides e-learning assignments," Loftus said. "Being able to sleep late is one consolation, though."
Stump agreed.
"The past few weeks have been truly, really boring for me and I'm starting to realize it's kind of boring without school," Stump said. "School always gave me something to do and without it the days go by a lot slower."
"It has really made my sense of time a lot stronger. I truly recognize how little time I have left before I leave for college," said Savannah Manning, who plays right midfield for the soccer team. "I have a lot of time for reflection as well as time for looking into what I want to be in the world."
Of course, as athletes, spare time can mean time to train. But with many public areas like gyms closed, they've had to think outside of the box.
One way to exercise is via Instagram challenges. People post videos of themselves doing exercises like push-ups and tag friends to challenge them to match their total.
Wade Maring, who has played golf for eight years, challenged Loftus in his video.
"I think the challenges are a great way to inspire people to get active or engage their minds in something they otherwise would not," Maring said. "I think it's a great thing to help people stay engaged and focused during this time of fear and boredom."
Some doubt that the spring sports season will resume, but Ward is training just in case.
"I have been staying in shape so that if we resume the season I will have the same endurance that I had when we left off," she said. "We lost the last game that we played when we should have won, and I know that if we were able to play [Carvers Bay] again then we would beat them. So I hope we'll be able to get back up and show them who we really are."
While many are unsure of whether they'll play their sport again, Zach Saxton knows he'll be on the baseball field for Limestone College in the fall.
"I'm excited that I get to keep playing but at the same time I'm upset that there might be no more [Waccamaw] season," he said.
With uncertainty clouding the end of the school year, many are reflecting on their high school careers.
"The season started off very promising and I believe we could've been one of the best teams to ever play for Waccamaw," Stump said. "We have a strong senior class this year and we all were on the same mission to win the region, then make a strong run in the state tournament. … I was proud to be a part of that team."
"Even though I didn't get to play in it, our last match was really amazing because we beat Bishop England, which we hadn't done in a couple years," Loftus said. "We knew we hadn't lost any talent from last year, so there was lots of promise in winning the state championship."
"The season was looking very promising and it's rather disappointing that it was canceled," Maring said. "It's the right thing to do if they end up [keeping schools closed]. I would rather stay out of school than cause the spread of the virus any further."
"I've worried about it," Hannon said. "If school gets canceled I'll miss my senior prom, senior lacrosse banquet, I won't see many of my friends or teachers ever again and I might not even have a graduation."
The front-runner for valedictorian, Manning didn't envision this ending for her class.
"I am worried about how this year will end with graduation, however I am going to trust in God and his plans," Manning said. "I hold out hope that maybe we can still have a ceremony, no matter when it takes place, as all of the students and I have worked so hard for such a special moment."