Work underway on emergency vehicle system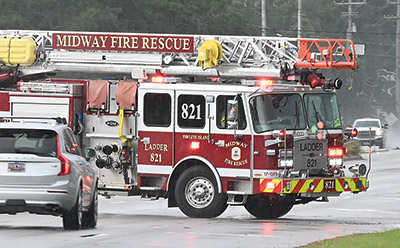 Midway Fire and Rescue is on track to run 4,000 calls this year, the most ever.
A system that gives fire and rescue vehicles priority at traffic signals should be in operation by mid-October.
The project is being funded with $1 million in surplus funds collected by Georgetown County through a capital projects sales tax from 2015 to 2019.
"It's very exciting to know it's coming because we need it desperately," said Karen Yaniga, one of four Pawleys Island area residents who started campaigning for the system in 2017. While at the Pawleys Raw Bar for trivia night, she had watched fire trucks try to get on Highway 17 from Beaumont Drive.
The system, known as Opticom, turns traffic signals green ahead of the emergency vehicles so that other traffic can flow.
The system has infrared transmitters in the vehicles and receivers on the signals. The signals stay green until the vehicle clears the intersection.
"It keeps traffic moving," said Mark Nugent, chief of the Division of Fire and Life Safety at Midway Fire and Rescue.
Midway is on track to run 4,000 calls this year for the first time in its history.
Nugent added that roads are becoming as dangerous to emergency workers as fires. "People don't care about fire trucks, red lights," he said.
A fire call could involve more than a dozen vehicles. "There a lot of interaction with the traffic," Nugent said.
Of Midway's calls, 85 percent are medical. The local system will clear the route to hospitals in Georgetown and Murrells Inlet and tie into the Opticom system in Horry County.
"It will make a huge difference," Yaniga said.