You think traffic's bad? Study wants to know more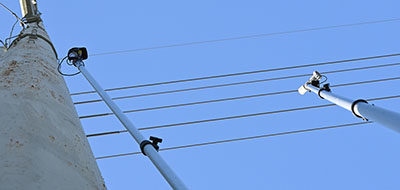 Traffic cameras attached to a power pylon count vehicles on Highway 17 as part of the corridor study.
An interactive map is giving the public a way to highlight problems along the Highway 17 corridor on Waccamaw Neck. It went live last week as part of a long-awaited traffic study.
David Gundling highlighted three places in the Pawleys Island business district where he would like to see pedestrian crossings: Parkersville Road, Tiller Drive and Professional Lane. It would help make the area more "walkable." But he acknowledged it would also create problems.
"You'd have so many lights along the highway, I don't know how that would work," Gundling said.
That will be up to the firm conducting the study, AECOM, to figure out. Gundling is a member of the study's advisory committee. He was an opponent of the plan that replaced the two-way left-turn lane on Highway 17 in Pawleys Island with a raised median in 2015.
"I don't know whether the medians have helped or hurt traffic flow," Gundling said. That's another question AECOM, a global engineering firm, will be able to answer as it reviews traffic data.
The study is an update of one completed in 2003. The raised median was one of several recommendations in the earlier study intended to keep traffic flowing on Highway 17 without adding lanes. Other recommendations included encouraging local traffic to take back roads and requiring connections between adjacent developments in order to reduce highway traffic.
The traffic volume on the highway currently averages 35,000 vehicles a day, according to the Grand Strand Area Transportation Study. The intergovernmental group is responsible for transportation planning in the region and is funding the $100,000 update to the corridor study.
Georgetown County has contracted with another firm, Stantec, to do a land-use study along the highway corridor. "This has to integrate with the other study," said John Sands, who serves on the advisory committees for both studies. The traffic study panel met last week. The land-use group will meet in July. The two studies will hold a joint meeting in August to get public comment.
"They're putting some emphasis on public engagement. That was part of the conversation early on," Sands said.
The online component is through WikiMapping. The project site (wikimapping.com/us17.html) allows participants to pin a comment to a map of the area.
"They can identify areas where they think there are issues or particular solutions," Mark Hoeweler, executive director of GSATS, said.
The same process was used for the region's long-range transportation plan and generated a good response, he said.
"I would guess that we would have hundreds of comments," Hoeweler said. "In the past, if we had three public meetings, we couldn't get 300 people, and then you wouldn't get 10 comments."
The WikiMap will take comments throughout the process, which is expected to wrap up in early 2020.
All the comments will be available for viewing. That wasn't the case this week, but Hoeweler said he was checking with AECOM to make sure that feature was active.
The project area extends well beyond the Highway 17 right of way, including Kings River Road on the west and Business 17 on the east. "It certainly makes sense if you're looking at traffic on 17 to look at the surrounding roads," Gundling said.
AECOM began work this week on traffic counts. Cameras will be placed at 20 intersections to gather data. Among those is the four-way stop at Kings River and Waverly Roads and the five-way stop at Kings River, Hagley Drive and Tyson Drive. "It's more comprehensive than just one road," Hoeweler said.
That's why public input is important, Sands said. "The people that are out there every day have a better sense of what's going on," he said.