Area voters back Russell Fry in ousting U.S. Rep. Tom Rice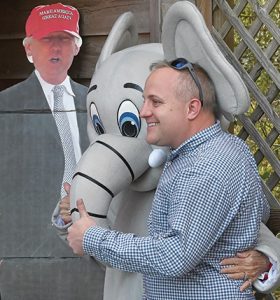 Russell Fry with two GOP icons at a campaign event in Pawleys Island.
Georgetown County voters joined the wave that swept U.S. Rep. Tom Rice from his 7th Congressional District seat in Tuesday's GOP primary.
State Rep. Russell Fry garnered 51 percent of the overall vote in the crowded race that featured seven candidates. Rice was got 25 percent.
In Georgetown County, Fry topped Rice 4,365 to 2,301. Fry won 32 of 34 precincts. Only Georgetown 1 and Dreamkeepers favored Rice, although the number of votes was small.
Fry was endorsed by former President Donald Trump. Rice was one of the 10 House Republicans who voted to impeach Trump after the Jan. 6, 2021, riot at the Capitol.
Among the nine precincts on the Waccamaw Neck, Rice did the best in Pawleys Island 3, with 38.3 percent of the vote. That was the only area precinct where Fry failed to get more than 50 percent of the vote.
Fry's best result was in Murrells Inlet 2, where he won 60.2 percent of the vote.
Barbara Arthur, a first-time candidate, finished third in the county with just under 10 percent of the vote.
The Republican nomination for superintendent of education and the Democratic nomination for U.S. Senate will be decided in runoffs on June 28.
Kathy Maness and Ellen Weaver will face off in the Republican race. Maness had the most votes in Georgetown County – 2,224 – and but her overall total of 99,438 was only 31 percent of the ballots cast.
The three women running for the Democratic nomination to face Sen. Tim Scott in November each got about one-third of the vote. Catherine Fleming Bruce edged out Krystle Matthews by less than 2,000 votes and Angela Geter by 3,200 votes overall. Matthews beat Bruce 1,421 to 901 in Georgetown County.
Georgetown County residents turned out in larger numbers than other areas of the state. The state average was 16 percent. In Georgetown County, it was 24 percent.
Out of 11,383 ballots cast in the county, 8,121 were Republican and 3,262 were Democratic.
Only two of the county precincts saw more than 1,000 votes cast: Pawleys Island 5 with 1,035, or 32.5 percent of those registered, and Pawleys Island 1 with 1,011, or 30 percent.
Voters in Pawleys Island 2, the county's largest precinct, were reluctant to talk about their actual choice of candidates, but didn't mind talking in more general terms.
Ric and Janice Hucks said they want their values represented in the state and in Congress.
"I think we just want to continue to have our Christian values noticed and voted for, and that's really important to us and that's who we vote for," Janice said.
"It's your faith-based principles that guide you. It's your moral compass and those that support it, you know that's who we vote for," Ric said.
Emily West was hoping voters would think more conservatively. She also wants better and safer schools.
She proposed "a civil defense sound in the school system when someone enters the building so everyone is alerted and all lives are saved."
Leslie Bessellieu was most interested in the gubernatorial race and making sure all citizens have appropriate representation.
"I hope that the voter turnout is good. You can't complain without doing something if we want changes with anything," Bessellieu said. "This is where change happens, in primaries."
Mike Fanning said voting is the only way to make a difference.
"I'd like to keep an appropriate balance of power, making sure the populace is heard," he added.
Nearly 3,000 residents took advantage of the state's new, two-week early voting period.
More than half of early voters – 1,506 – cast thier ballots at the Waccamaw Library. Another 1,172 voted at the elections office in Georgetown.
Only 265 residents cast a ballot at the other voting centers in Andrews and Choppee.
It is likely Waccamaw and Georgetown will host voting centers in advance of the November general election.
The county's election board will decide whether to open centers in other parts of the county.
Local results
Here are the top two vote getters in Georgetown County for some of the races in Tuesday's primaries.
Republican governor: Henry McMaster, 6,809; Harrison Musselwhite, 1,035.
Democrat governor: Joe Cunningham, 2,239; Mia McLeod, 729.
Democrat U.S. Senate: Krystle Matthews, 1,421; Catherine Bruce, 901.
Republican U.S. House District 7: Russell Fry. 4,365; Tom Rice, 2,301.
Republican secretary of state: Mark Hammond, 5,223; Keith Blandford, 1,834.
Republican attorney general: Alan Wilson, 4,682; Lauren Martel, 2,540.