Christmas musical features favorites songs in new settings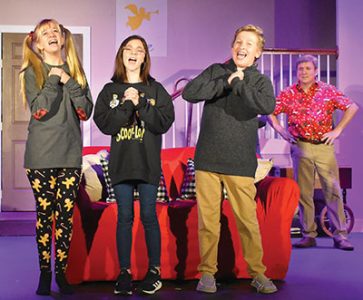 Grace Yant, left, Libby Kaminski and Elijah Mason perform, watched by the show's creator, Joe Ford.
Many families may be scaling back traditional Christmas gatherings this year because of the COVID-19 pandemic, but one place people can find the spirit of the season is the Strand Theater, where the Swamp Fox Players production, "O Hear the Angels' Voices," opens tonight.
"People are going to be looking for something, they really want something," said Joe Ford, who wrote the script, directs and is part of the ensemble cast.
The play is the story of a get-together of family and friends on Christmas Eve. There is a lot of singing, story telling, presents for the kids and liquid spirits for the adults. Santa eventually arrives, and gets stuck in the chimney.
There are also poignant moments when Ford's character discusses a man he met who had lost his son.
"It's a really sweet story," said Josie Thames, who plays a mother. "Parts of it made me cry and I don't cry very often."
She has worked with Ford for almost the entire 10 years she's been involved with the Swamp Fox Players.
Ford sent her the script last year before he had even finished it and she fell in love with the story.
Drue Michael Wendt of Pawleys Island plays a father in the show.
"I really like working with kids. They're so funny," Wendt said. "They have fresh ideas and they have a lot of energy and they're always happy. It inspires you to be happier."
Wendt used to sing with the Indigo Choral Society. He heard that Ford was looking for a tenor to sing "O Holy Night" for the show. When he came to talk to Ford about the play, Ford offered him a part.
"It's been a lot of fun, I haven't done community theater in a really long time," Wendt said. "It's more intimate and a little sad. I've gotten a chance to sing music I wouldn't have otherwise sung."
Addison Day, 12, a seventh-grader at Waccamaw Middle School, was encouraged to audition by her mother, who was also cast in the play.
"I've always liked acting and I've always wanted to do it," Addison said.
She gets nervous on stage, but said it gets easier the more she does it.
Logan Colon, 9, a fourth-grader at Waccamaw Intermediate, has been acting since he was in first grade. His lessons have been canceled because of COVID-19 so he decided to audition for the play.
"I thought it was the perfect opportunity," Logan said.
He said sometimes he gets nervous if there are a lot of parents in the audience and he finds the choreography difficult when he has to act and sing at the same time.
When casting the show, Ford wasn't necessarily looking for the best singers.
"The important thing about singing is the fact that you sing," Ford said. "Some of my best karaoke friends don't sing the best, but they enjoy themselves. When you see someone enjoying themselves, that's the best."
The play is full of classic carols and Ford hopes the audience will sing along.
Audience members will be asked to wear a mask and maintain social distancing by sitting in alternating rows and with three seats between groups.
"A lot of things for Christmas have been canceled, but the theater has found a way for us to do this safely and responsibly so people can come and enjoy it," Thames said. "The town's been through so much since the fire in 2013. It was important for us to give the town something to enjoy."
If you go
What: "O Hear the Angels' Voices"
When: Dec. 3-5 and 10-12 at 8 p.m.; Dec. 6, 12 and 13 at 2:30 p.m.
Where: Strand Theater, Georgetown
How much: $20, adults; $10, children under 12. Order tickets at swampfoxplayers.com or 843-527-2924