Plan for Litchfield Racquet Club withdrawn a third time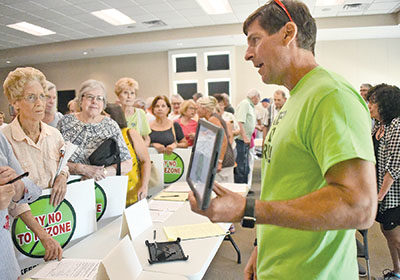 Michael Mushock shows how to order T-shirts opposing the project.
The latest plan to redevelop the Litchfield Racquet Club was withdrawn Thursday, following the fate of two earlier requests.
The decision came a week after a meeting between the developer and Georgetown County planning staff, who said they would recommend that a traffic study be completed before the Planning Commission makes a decision on a request to add 32 homesites to the Litchfield Racquet Club planned development.
This week, Shawn Becker of AmeriBuilt homes, who has an option to buy the 8.5 acres from Founders National Golf, told planners he wanted to withdraw the request. The property currently has 17 clay tennis courts. Becker had proposed 32 single-family homes with lots of 4,600 square feet, less than the county currently allows in any of its zoning districts.
"We told him we were going to recommend a traffic study," Boyd Johnson, the county planning director, said.
The latest development plan was almost identical to one submitted last month by Trey Smith of Wimbledon Village LLC. It was withdrawn before staff began its formal review.
Johnson said the staff also had concerns about the size of the lots. At just over five units an acre, the project would be considered high density under the county zoning ordinance.
Traffic was also an issue with an earlier plan by Smith for 108 one-bedroom apartments on the site. That plan was also withdrawn after the staff recommended denial.
"They're now back to square one," Johnson said.
The amendment to the planned development was scheduled for a public hearing before the Planning Commission on July 18. That has been cancelled.
About 200 area residents met last Saturday at the Waccamaw Library to organize opposition to the redevelopment under the banner Keep It Green.
In a nearly two-hour meeting at the Waccamaw Library that was part civics class and part rally, residents united around a common message: changing the zoning to allow residential development at the tennis complex would set a precedent for redevelopment of area golf courses.
"We can't afford to let this happen," said Andy Hallock, a River Club resident and one of seven organizers of Keep it Green, which is mobilizing opposition to the project. "We don't want zoning changed for housing. If that happens, it opens the door to a whole lot worse."
Within 24 hours, yard signs urging "Say No to Rezone" dotted lawns throughout Litchfield Country Club, a petition opposing the project had garnered more than 700 signatures and the Keep it Green Facebook page had grown to more than 475 followers.
Mike Mushock, a country club resident and one of the organizers of Keep it Green, said more than 160 opponents ordered T-shirts to wear to the Georgetown County Planning Commission hearing on the project. He had run out of yard signs but still had some bumper stickers available.
Mary Beth Klein, another organizer of Keep it Green and a Pawleys Plantation resident, said she was encouraged by the number of residents who attended the meeting, and especially those who live in other communities.
"This isn't just a racquet club issue," Klein said. "This is a community issue that could affect property values and quality of life in our area."
Julie Noie, a self-described "involved" Litchfield Country Club resident, was pleased to see neighbors and residents mobilizing. "It was encouraging to see so many people who don't live in Litchfield Country Club at the meeting," Noie said. "This rezoning request has the attention of residents farther south, including Heritage, Hagley and Pawleys Plantation."
Mushock, a former racquet club member, said a group still wants to buy the property and reopen the 17 clay courts for play once this rezoning issue is resolved.
Jerry Oakley, interim president of the Litchfield Country Club Homeowners Association and a former County Council member, had some words of encouragement for opponents of the proposed residential development.
Oakley compared the Keep it Green campaign to the successful Don't Box the Neck initiatives that defeated a proposal for a Lowe's home improvement store on Highway 17 at the South Causeway in 2005 and a Walmart proposed for Pawleys Island Plaza in 2012. After area residents launched an intensive grassroots campaign opposing a big-box store, Georgetown County denied the rezoning requests.
"We can do that again," Oakley said. "Strong leadership and concerned, dedicated citizens are needed to tell the decision-makers: 'We don't want it.' "
Margaret Lamb contributed to this article.