Exhibit on Harriet Tubman coming to county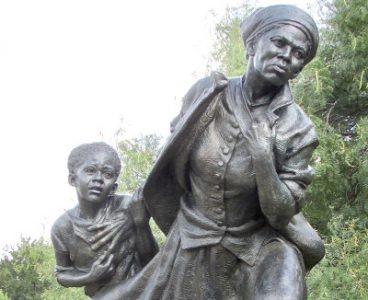 The sculpture by Wesley Wofford is a centerpiece of the exhibit.
While others areas of the country get three months to enjoy and learn from "Harriet Tubman: Journey to Freedom," the sculpture will be in Georgetown County for six months.
It will spend three months at Joseph Rainey Park on Front Street in Georgetown and then three months at Brookgreen Gardens.
Steve Williams, an author and historian, said having the sculpture in Georgetown will bring "pride" to the African-American community.
"For many years we didn't have that much to be proud about because of institutional slavery," said Williams, a Georgetown native. "From an African-American perspective. From a female perspective. From a historical perspective. She is a giant in so many other places, but this one of the few places that we don't know much about her."
Tubman was born into slavery in 1822 in Maryland. She escaped and as a fugitive became a conductor of the Underground Railroad – a network of safe houses and secret routes. She made numerous trips to the South to rescue hundreds of slaves and was a scout and spy for the Union Army during the Civil War. She eventually settled in New York and was active in the women's suffrage movement.
"What we're doing with the event is not only celebrating Harriet Tubman and her courage and her life story of being an emancipator of slaves," said Marilyn Hemingway, president and CEO of the Gullah Geechee Chamber of Commerce. "I think it's a wonderful opportunity for children to learn about an American hero whose actions still impact us today."
The sculpture was created by Wesley Wofford, an artist based in North Carolina. It will be on display in Rainey Park from Aug. 1 through Oct. 31.
"With Harriet Tubman's presence in this park, it will bring the history and bring all the people in the City of Georgetown together," Georgetown Mayor Carol Jayroe said. "That's what I'm looking forward to."
Jayroe hopes a lot of school children will visit.
"It's something that they can look at and see and touch and feel," she said. "They will be all over it and learn about our history."
Superintendent of Schools Keith Price said county students begin a "deep dive" into topics like slavery and abolition when they reach fourth grade. School district staff have been working with the committee responsible for bringing the sculpture to Georgetown to come up with ideas on curriculum and other ways to explore history, including field trips to see the sculpture.
"One of the top 10, most researched famous Black historians is Harriet Tubman and our students will have the opportunity to learn of her significance and her touch and her place right here in Georgetown and what that means to them," Price said. "Being able to come and and see a sculpture in person is going to make a big difference and help them to learn and retain the information they're going to discover about Harriet Tubman."
Tubman's great-nephew, James Bowley, was one of the first people she rescued from slavery. He was 6 at the time and moved to Georgetown more than a decade later. He became a teacher, school commissioner, state legislator, college trustee and newspaper publisher.
When Bowley was raising money to pay for educational materials for African-American students in the county, Tubman gave him $500.
"She could have done it for Beaufort, she could have done it for Charleston, but she did it here," Williams said. "And people don't understand. After being illiterate and ignorant for 200 years, it was very meaningful to get an education, which they were hungry for. But you've got to have teachers and books and all of that. Harriet Tubman understood that."
In 2019, a historic marker was placed in front of the house that Bowley lived in at 231 King St. in Georgetown. It was after the event that Williams, Hemingway and Kent Hermes, the current owner of the James Bowley House, met with Wofford and started planning to bring a Harriet Tubman monument to the city.
"I fell in love with it from the very first second I saw the statue," Williams said. "We're very excited, but more importantly, the community is supporting it."
The sculpture will arrive on Aug. 1. An unveiling ceremony is scheduled for Aug. 5. Wofford is expected to attend, along with Tina Wyatt, a descendant of Tubman's, and Kate Clifford Larson, author of "Harriet Tubman: Portrait of an American Hero."
Events planned while the sculpture is in Georgetown include: a performance by the Gullah Kinfolk Traveling Theater; a one-woman show by Gullah historian Natalie Daise; and an artisans village featuring Gullah vendors.
After the sculpture leaves Georgetown it will be on display at Brookgreen Gardens through Jan. 31, 2024.