Pawleys Island makes plans to keep July 4th parade rolling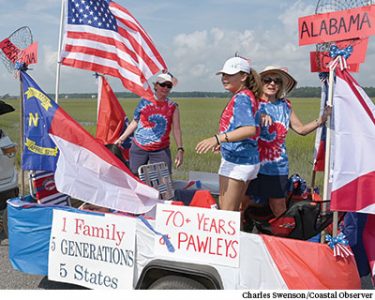 A float in last year's parade celebrate family connections.
Pawleys Island will celebrate the Fourth of July with a parade.
"It may be difficult to practice social distancing," Mayor Brian Henry said. But he added, "I can't imagine Pawleys without a Fourth of July parade.
While the town agreed to move forward with plans as the state begins to relax restrictions put in place to slow the spread of the coronavirus outbreak, the fate of the Murrells Inlet boat parade is still uncertain.
Lee Hewitt, who organizes the boat parade, expects to get a permit from the state Department of Natural Resources, where employees were returning to their offices this week after working from home. He will meet next week with the owners of restaurants along the Marshwalk, one of the prime spots for viewing the parade.
"How do you safely open up the Marshwalk to all those people?" Hewitt said.
He said the parade will only go forward if the organizers can find ways to adhere to guidance on social distancing from the state Department of Health and Environmental Control and the federal Centers for Disease Control and Prevention.
The Pawleys Island parade brings people from vacation homes along the route to watch and most of the participants in decorated trucks or boats on trailers are from family groups, Henry said.
The parade also draws spectators from off the island, who line the streets and stand several rows deep on Myrtle Avenue at the intersections of the two causeways.
"I'm in favor of having the parade," Council Member Sarah Zimmerman said. "It's not forcing anybody to come out."
A graphic designer has come up with a logo for the parade T-shirts at no cost to the town, Henry said. He planned to circulate it among Town Council for comment.
The town delayed ordering the T-shirts because of the uncertainty surrounding public gatherings.
The Murrells Inlet boat parade T-shirts are sold by the Boy Scouts at Belin Memorial United Methodist Church. The troop wants to move forward, Hewitt said. He already has the logo and the theme, "Independence Day the Inlet Way."
"They hope to have the T-shirts ready to sell in a week and a half," he said. The cost will be $10 and the troop is working on sales locations.
Both parades face timing issues.
The Pawleys parade starts at 10 a.m. With July 4 falling on a Saturday, that will coincide with people trying to check out of rental houses.
The inlet parade, if held, will start a 5:30 p.m. on a rising tide. Boats will leave from Garden City Point and should arrived at the Marshwalk around dinner time. There will be no registration or trophies this year.
Even if there is no formal parade, "nothing would stop everybody from going out at 5:30 on their own," Hewitt said. "That could happen."