Grant helps launch county cleanup effort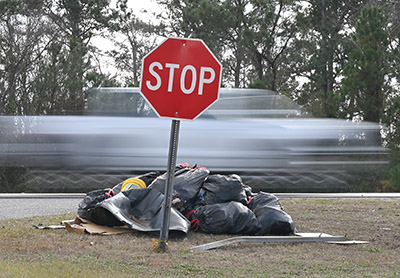 More volunteers will be recruited to help pick up.
A $25,000 state grant will jump start Georgetown County's efforts to clean up roadside trash.
The funds from Palmetto Pride will pay for a three-member, part-time litter crew. They will tackle roadsides where safety could be a concern for the volunteers that the county also hopes to attract to the effort, said Maureen Mulligan, the county environmentalist.
County Council this week approved the $48,730 action plan for 2022 that will include tracking litter and illegal dumping, organizing cleanups, recruiting volunteers, educating elementary students and posting anti-litter signs.
The Environmental Services Division will coordinate the effort with other agencies and nonprofits. "We don't want to be repeating services other people are providing," Mulligan said.
"I see litter flying out of trucks all the time," Council Member Steve Goggans said.
The effort will involve the sheriff's office, said Ray Funnye, the director of Public Services.
"We have a good relationship with the sheriff's office," he said. "He has given some of our drivers tickets as well."
The litter plan has been in development for a couple of years, Funnye said.
Last year, Environmental Services spent $1,273 on supplies for 10 cleanups that netted 15,000 pounds of trash. Without volunteers, the labor cost would have been about $100,000, said Michelle LaRocco, head of the division.
The county hopes to have the litter crew hired by the end of February and start recruiting volunteers in the spring.
The citizens group Keep It Green has a litter cleanup scheduled for Sunday (Jan. 23) along Highway 17 from Prince George to the Waccamaw River bridge. The effort follows the solo Christmas cleanup around the bridge by Tom Martin. It will start at 7:30 a.m. from the Hobcaw Discovery Center. To sign up, contact duane.keepitgreen@gmail.com.