Town finds new administrator close to home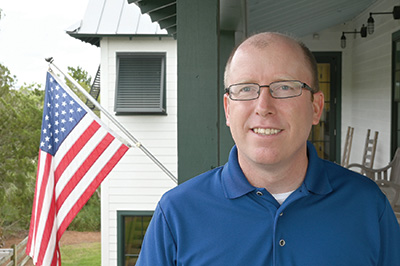 Dan Newquist will start work July 18.
Dan Newquist has never been to the Pawleys Island Fourth of July Parade. He'll be there this year, two weeks before starting work as the new town administrator.
"I'll be working, watching, helping in anyway I can," said Newquist.
He signed a three-year contract this week, replacing Ryan Fabbri, who resigned last month citing conflicts with council members.
Newquist has worked for the Waccamaw Regional Council of Governments since 2009. He was the water quality planner for 12 years before becoming the council's transportation and environmental programs manager in 2017.
Waccamaw Regional provides planning services to local governments in Georgetown, Horry and Williamsburg counties.
"Today, I don't have any direct experience as a town administrator. Working with jurisdictions throughout our three-county region, you kind of see how towns operate," Newquist said. "I'm in the fortunate position of having a lot of contacts in the region."
His experience at Waccamaw Regional also ties in with projects that the town identified in a strategic planning session in 2020. The town hired a consultant in April to create a plan to deal with the impact of sea level rise on Pawleys Creek and the adjacent marsh. Newquist helped create a watershed management plan for Murrells Inlet in 2014.
The town has also looked for ways to work with the state Department of Transportation to mitigate flooding. Newquist worked with the Grand Strand Area Transportation Study, which allocates federal highway funds to projects in the region.
Newquist is also a certified floodplain manager. The town government's evolution from having the mayor serve as a part-time administrator to a full-time administrator was due in part to the need to have someone manage its flood ordinance and the town's participation in a federal program that gives property owners discounts on their flood insurance premiums.
Those skills made Newquist the unanimous choice of the four council members who interviewed two finalists for the administrator's job last week. (Council Member Sarah Zimmerman was out of the country.) Mayor Brian Henry had narrowed the list of 19 applicants to three, but the third wasn't able to attend the interviews.
Newquist will start with a base salary of $95,000. The contract provides three months of severance pay if he is fired without cause. Fabbri's contract, which was up this summer, had a six-month severance package. His salary after nine years with the town was $109,000.
The other finalist was Tom Banisch, who lives in Surfside Beach. He is a retired businessman who served four years as the elected chief executive and administrator for the coastal town of Madison, Conn.
"They thought so much of him when he left they had a parade for him," Henry said.
But he said that Newquist's experience and local connections made him the clear choice.
"At the COG, you've got to bring people together. That's what we've got to do at the town," Henry said.
That fact that Newquist lives at Pawleys Retreat, just 2 miles from Town Hall, was a bonus, he added.
Newquist envisions riding his bike to work.
"I'm a big believer in that sort of thing," he said.
Newquist grew up in Rhode Island, in a village on Narragansett Bay that he said reminds him of Georgetown. He earned a bachelor's degree in biology from North Carolina State. He became interested in urban planning and earned a master's degree in planning from the University of Tennessee.
His post-graduate program included an internship with the city of Myrtle Beach, which was updating its comprehensive plan at the time. Newquist worked with Tom Britton, who was the planning director at Waccamaw Regional, and Mark Hoeweler, the executive director of GSATS. The water quality job came up after he graduated, and he moved to Georgetown.
"I'm sorry to see Dan go," Hoeweler said. "He had a lot of responsibilities here. He'll be hard to replace."
He and Henry both used the same word to describe Newquist: conscientious.
Newquist and his wife had their first child in April. He said he had no thoughts about leaving Waccamaw Regional, but when the position opened at Pawleys Island, "I was immediately intrigued."
As he drafted his application, he realized it was an opportunity to do work he enjoys in a place where he wants to live.
"I can foresee myself being her for a good while," Newquist said. "When an employer invests in me, which the council of governments certainly did, I want to give back to them."
His first task will be "creating a positive relationship with council," he said.
Also high on his list is building a relationship with Brandon Ellis, the county Emergency Services director, before the hurricane season gets busy.
"One thing that was made clear to me is that the town is interested in pursuing any and all grant opportunities," Newquist said.
Pawleys Island doesn't have a municipal property tax. Finding ways to pay for capital projects was the one item in the council's strategic plan that hasn't been addressed.
Newquist has worked with state and federal agencies on grants at Waccamaw Regional.
"I think I bring a lot of that perspective," he said.